Chelsea lose their grip on a top-4 position
After last night's defeat to Watford, Chelsea are now just one point ahead of Tottenham Hotspur in the official Premier League table. When schedule strength is properly taken into account, though, that slender one-point advantage is not enough: the more accurate alt-3 league table shows Chelsea now in 5th place, behind Spurs by a narrow margin.
The reason is that Chelsea have played a relatively easy set of fixtures. Or, in other words, that their remaining fixture list up to the end of this season is a relatively tough one (compared with some other clubs, including Spurs).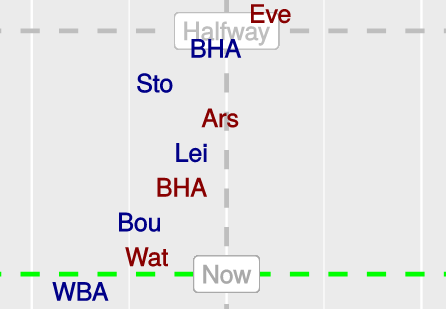 This snapshot of Chelsea's current schedule-strength chart shows a clear drift leftwards — that is to say, in the direction of easier-than-average fixtures — since the halfway point of the season. Chelsea's current schedule strength is −0.8 league points. The schedule-strength difference between Chelsea and Spurs — whose schedule is rated as currently slightly harder than average, at +0.4 points — is therefore 1.2 points, enough to cause their positions to be reversed in the alt-3 table.
---
To see any club's current alt-3 schedule-strength chart, just click on the club name in the alt-3 league table.